Visual arts
From Culture.si
Shape your view of the Slovenian visual arts through articles on galleries, international exhibitions and workshops in genres from painting to printmaking, sculpture to ceramics, photography to comic books, and more.
NOT ROBOT, WRITING DONE, INFOBOX DONE, PROOFREAD DONE, FERTIK, NOVERIFY, NODEPO, Articles maintained by Admin, PHOTO, FEATURED, Article, HAS LOGO, HAS MAP, Museums, Visual arts galleries, Visual arts museums, Venues, Visual arts, Galleries, Forma Viva Collection, Municipal cultural institutions, Updated 2020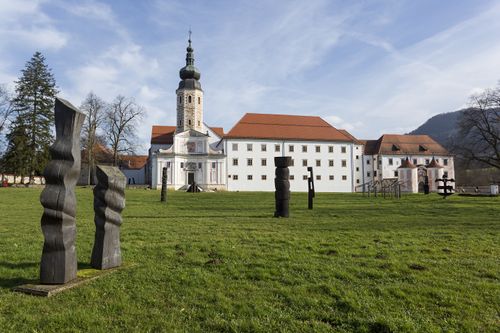 Agnessa Ivanova Petrova, Streams, 2006 Božidar Jakac Art Museum, Kostanjevica na Krki
Visual arts web resources
Current events abroad
Slovenian Pavillion themed the Smart Green Cloud in the frame of the motto Connecting Minds, Creating the Future presenting also the artworks by Slovenian painters, sculptors and designers

at the Expo



all events
Subcategories
This category has the following 22 subcategories, out of 22 total.
Articles in category "Visual arts"
The following 274 pages are in this category, out of 274 total.
Media in category "Visual arts"
The following 401 files are in this category, out of 401 total.